---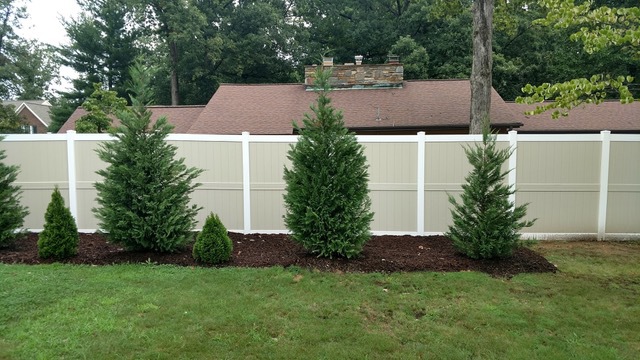 ---
Maintaining Your Fence Through the Snowy Winter Months
---
---
A backyard needs tender loving care all year long. Every part of the yard should be kept in good shape. As winter approaches, special care needs to be taken with the fence. Fences keep unwanted pests out and add an element of beauty to any yard. When the seasons begin to change, it's time to look closely at all areas of the fence. Doing so will help keep the fence in the best possible shape even when ice coats the yard and the winter winds blow.
Before Winter Comes
Before winter comes, now is the time to have a careful inspection of all parts of the fence. Changing temperatures mean that the boards in the fence may contract repeatedly. Now is the time to look for possible holes in the boards. Moisture during the summer can get in the wood can get into the wood and cause problems such as mold, mildew and rotted fibers. Protect the fence against the weather before it starts getting really cold outside. Waterproof stain and sealants should be applied to the fence before the harsh winds begin.
After Storms
Winter is a common time for storms. A fence helps reduce the amount of snow that gets in the yard. Fences out front can also make it easier to clear a path to the door as well as to the garage at the side. Protect the fence after a prolonged bout of ice and snow by carefully removing any excess snow. Overhanging branches next to the fence can also cause damage to any fence. When the snow is finished, now is the time to head outside. Look for any branches that may have gotten caught in between the slats. Remove them before they do any further damage.
Soil Issues
As it continues to rain heavily, it's easier than ever for water to overwhelm the underlying topsoil. The excess water can cause the soil to shift and move from one place to another area. In doing so, it can also damage the foundation of the fence. This is the time to check all the boards and the surrounding soil. See if there are any issues that have left the fence leaning to one side or the other. Look at the bottom of the fence and see that all boards are still in place. The fence posts need particular examination during the winter to keep them rooted in place.
It's a good idea to run a string across the top of the fence after any deep snow. This can indicate the there's an issue with some of the boards. Look where the dip exists. Remove the existing board and replace with a new one. Replacing the board promptly has many advantages. Doing so will avoid further problems with the structure of the fence by making sure that other boards don't fall into the gap in the fence. A simple fix now can prevent any further damage.
---